© Martin Holzner | ZEISS Distagon T* 2.8/15 ZM
© Wolf Rainer Schmalfuss | ZEISS Distagon T* 2.8/15 ZM
© Wolf Rainer Schmalfuss | ZEISS Distagon T* 2.8/15 ZM
ZEISS Distagon T* 2.8/15 ZM
Shoot for the stars.

center >
Make every shot the star of the show, with this ultra wide-angle lens. The ZEISS Distagon T* 2,8/15 ZM is the pinnacle of modern, rectilinear rangefinder lens design, offering very dynamic perspective effects for critical architecture and interior photography.
The ZEISS Distagon T* 2,8/15 ZM is a fast lens for its focal length, allowing for hand-held photography under difficult lighting conditions. The lens is made in Germany and incorporates a very complex optical design using exotic optical materials such as barium dense flint with a high refractive index and fluor crown with anomalous partial dispersion. It uses aspheric lens elements and an internal focus mechanism for distortion-free images and consistent performance over the whole frame and across the entire focusing range.




The range of ZEISS T*® lenses offers the highest possible standards in terms of performance, reliability and, of course, image quality. Quite simply, they are superior in every way. You can count on highly advanced flare control for crisp and brilliant images, for example. And virtually zero geometric distortion, ensuring precise accuracy when reproducing shapes – especially useful when photographing products and architecture.

Manually focusing a lens means controlling the image result from your fingertips. A good ergonomic design makes all the difference. The user-friendly focusing ring on ZEISS lenses with an ergonomic finger rest is perfect for fast, precise focusing. Changes are immediately visible in the viewfinder. The high-quality focusing mechanism moves smoothly without play, thus also supporting the intuitive interaction with the focal plane.

Ideal aperture properties
Photographers want to guide the observer through the image. Minimal depth of focus is often used as a design element. This keeps the background intentionally blurred to keep the attention of the observer on the main subject. The ZM lenses feature ten aperture blades. The almost circular aperture helps to create a particularly harmonious effect in the out-of-focus areas of the picture (bokeh).

ZEISS T* anti-reflective coating
The optical elements of ZEISS lenses feature T*® anti-reflective coating on all surfaces and an optical design that guarantees images of superior brilliance at all times, even in unfavourable lighting conditions. We apply the anti-reflective coating to the lens surfaces by the vapour deposition of extremely thin, transparent layers on the glass. In this process, special substances are vaporized with extremely high energy in a high-vacuum environment and are subsequently deposited on the glass surfaces, one after another, as layers with precisely controlled thicknesses to achieve the desired reduction of reflective properties. The first coating techniques were employed by ZEISS as long ago as in the 1930s.

The mount and control elements of all ZM lenses are made of metal and are designed for decades of intensive use. The high-quality craftsmanship of the all-metal mounts, the easy-to-grip metal focus and aperture ring and the robust front bayonet and filter threads ensure an amazing photographic experience.

| | |
| --- | --- |
| Focal length | 15 mm |
| Aperture range | f/2.8 – f/22 |
| Camera Mount | Leica M-Mount* (ZM) |
| Format compatibility | Full Frame |
| Focusing range | 0,30 m (11.81") – ∞ |
| Angular field** (diag. horiz. vert.) | 110° | 100° | 77° |
| Coverage at close range (MOD)** | 430 x 650 mm (16.93 x 25.59") |
| Image ratio at minimum object distance | 1 : 18 |
| Lens elements | groups | 11 | 9 |
| | |
| --- | --- |
| Autofocus | – |
| Image Stabilization | – |
| | |
| --- | --- |
| Filter thread | M72 x 0.75 |
| Length (without lens caps) | 86 mm (3.39") |
| Weight | 550 g (19.40 oz) |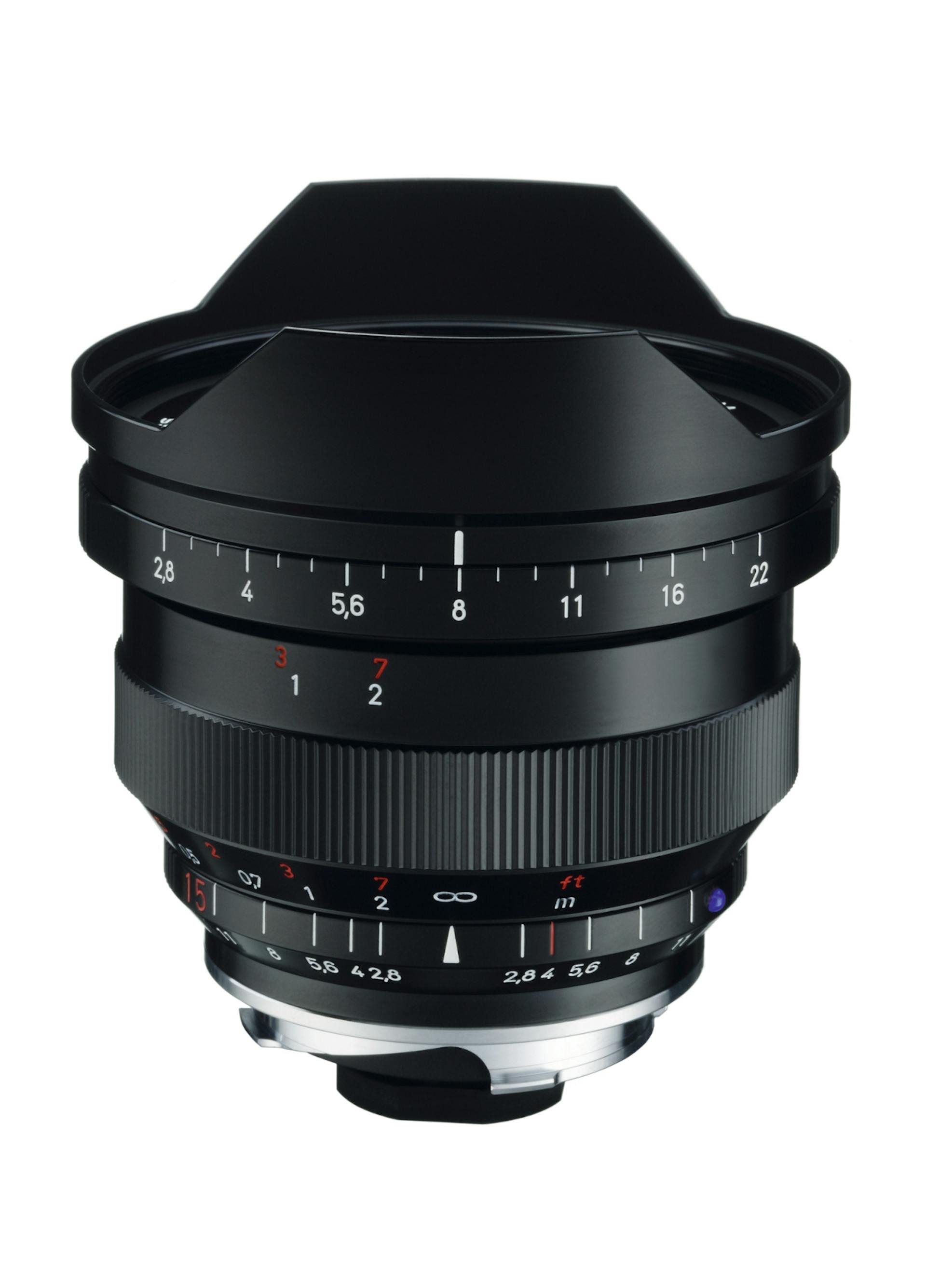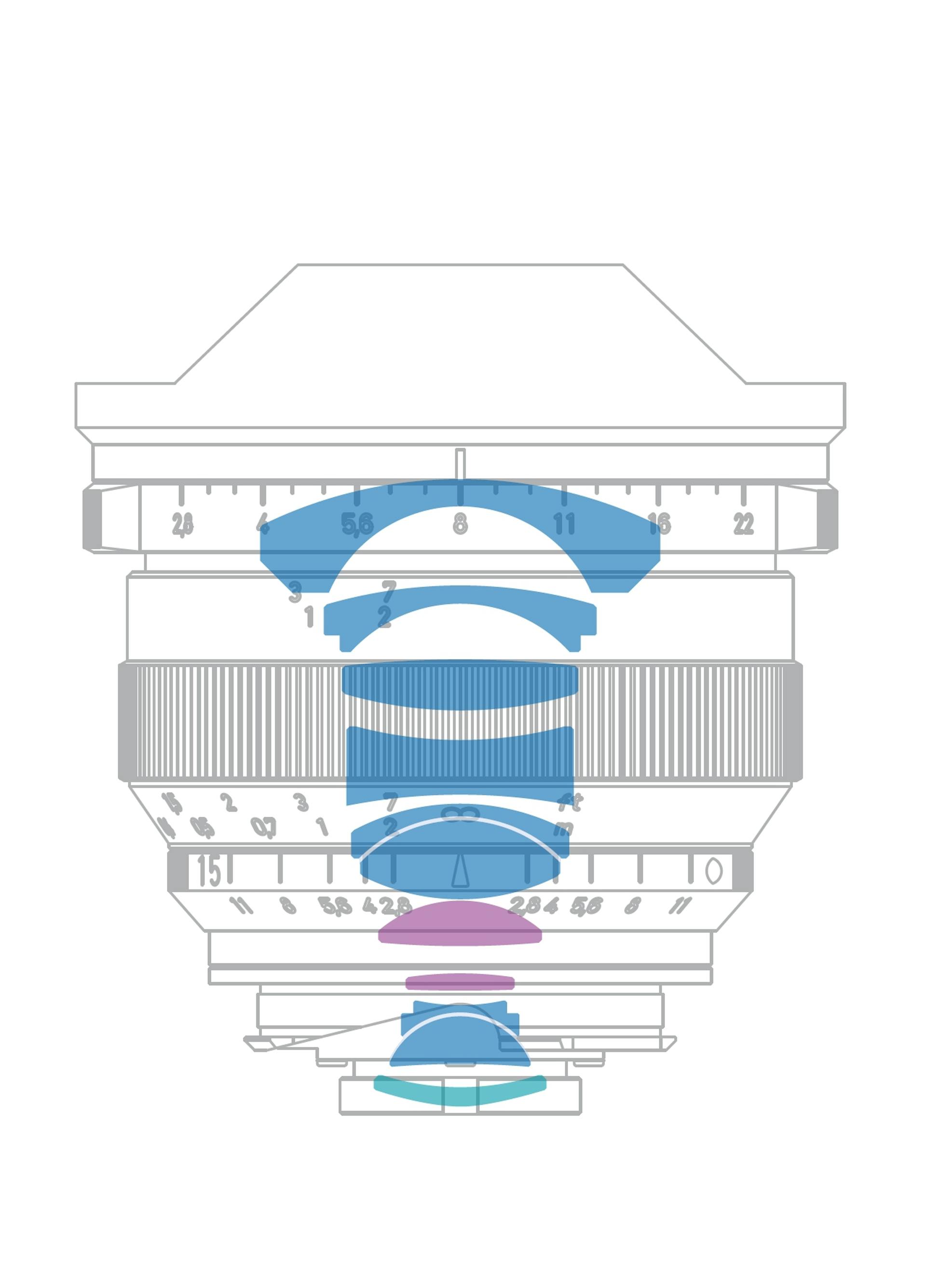 Originally developed for SLR cameras requiring a long back focal distance for short focal lengths because of the mirror box (the distance between the back lens element and the film plane must be considerably longer than the focal length), the Distagon lenses (retrofocus design) are also ideal for mirrorless system cameras thanks to their optimized ray path. Even with longer focal lengths, the high-performance Distagon optical design enables consistently good correction all the way to the corners of the image and very low field curvature.

Distagon Design

Lens with aspheric optical surface

Lens made of special glass with anomalous partial dispersion

"Floating elements" design
diglloyd.com
"The Zeiss ZM 15mm f/2.8 Distagon is a super-exotic ultra-wide-angle rectilinear lens for the Leica M9/M8/M or Zeiss Ikon..."
diglloyd.com
luminous-landscape.com
"In 2004 Carl Zeiss introduced the Zeiss Ikon ZM rangefinder camera and a range of lenses. These lenses, as with the ZM camera..."
luminous-landscape.com
Lens Accessories
Round off the fully unique product experience.
When taking pictures, an optimal image is not the only consideration. Capturing that special experience also plays a key role. With their reliable functions, camera lenses from ZEISS ensure that photographers can fully concentrate on the image and composition, and bring their creativity to life. In order to perfect this experience, ZEISS now offers accessories tailored to the requirements of demanding photographers.
Obtain the extended warranty
Product Registration
ZEISS grants a warranty period of two years from the date of purchase for all its photographic lenses. This may be extended to three years after registering with ZEISS Online Registration. Although the ZEISS extended warranty is already available in numerous countries, claims under warranty may only be made in the country in which the product was purchased. 

Dealer Locator
Please type in your address to find a dealer near to your location: