© Ralph Koch | Stadtbibliothek Stuttgart | Architecture: Eun Young Yi | ZEISS Otus 1.4/28
© Dietmar Kalchschmied | ZEISS Otus 1.4/28
© Benjamin Völker | ZEISS Otus 1.4/28
© Stian Klo | ZEISS Otus 1.4/28
© Stian Klo | ZEISS Otus 1.4/28
ZEISS Otus 1.4/28
The wide-angle lens.

center >
Uncompromising performance across the entire image field makes this full-frame lens unique and sets new standards among wide-angle focal lengths. Raise your photos to a totally new dimension by capturing even the tiniest details of your subject.
Like all focal lengths of the unique ZEISS Otus® family, the Otus 1.4/28 is in a class all of its own. A lens that incorporates the extensive know-how and all the experience of ZEISS.
Use the Otus® 1.4/28 from ZEISS and experience the quality and look of a medium format lens. Whether you are shooting landscape, architecture or interiors, during the day or at night – this lens will provide you with high resolution and outstanding definition regardless of the situation.
The optical correction of the Otus 1.4/28 prevents practically any aberration you can think of. It will just keep on fascinating you – even after many years of use and also on high-resolution systems.




Thanks to its exceptional sharpness, the ZEISS Otus exploits the full potentials of contemporary high-resolution sensors and rewards photographers with images characterised by breathtaking rendition of even the finest details.

The ultimate in image contrast
Aberrations caused by extreme differences between shadows and highlights are particularly obvious in images captured at night. Thanks to the outstanding correction of lateral chromatic aberration, the floodlit facade is reproduced with absolute perfection.

Because this lens is an apochromat, chromatic aberrations (axial chromatic aberations) are corrected with elements of special glass with anomalous partial dispersion. The chromatic aberrations are therefore significantly below the defined limits. Bright-dark transitions in the image, and especially highlights, are reproduced almost completely free of color artifacts.

Virtually distortion-free optics
Dramatic perspectives and a view from extraordinary image angles – ZEISS lenses open up new composition possibilities. Distortion would disrupt the composition because straight lines, whose image does not go through the image center, would be reproduced with a curved shape. This annoying effect is accordingly and largely compensated through elaborate optical designs at all focal lengths.

Sources of light located in front of or behind the plane of focus present particular challenges to every lens. In the case of the ZEISS Otus, longitudinal chromatic aberration is so low that practically no colour fringing occurs.

The aspherical lens design ensures consistent imaging performance throughout the entire focusing range as well as sharpness to the periphery of the image. The asphere's more complex surface profile can reduce or eliminate spherical aberration and also reduce other optical aberrations compared to a simple lens.

| | |
| --- | --- |
| Focal length | 28 mm |
| Aperture range | f/1.4 – f/16 |
| Camera Mount | Canon EF-Mount* (ZE) | Nikon F-Mount* (ZF.2) |
| Format compatibility | Full Frame |
| Focusing range | 0,30 m (11.81") – ∞ |
| Free working distance | 0,15 m (5.91") – ∞ |
| Angular field** (diag. horiz. vert.) | 75° | 65° | 46° |
| Diameter of image field | 43 mm (1.69") |
| Coverage at close range (MOD)** | 203 x 134 mm (7.99 x 5.27") |
| Image ratio at minimum object distance | 1 : 5.5 |
| Lens elements | groups | 16 | 13 |
| Flange focal distance | ZE: 44 mm (1.73") | ZF.2: 46 mm (1.83") |
| Entrance pupil position (front of image plane) | 133 mm (5.23") |
| | |
| --- | --- |
| Autofocus | – |
| Image Stabilization | – |
| | |
| --- | --- |
| Filter thread | M95 x 1.00 |
| Rotation angle of focusing ring | 120° |
| Diameter max. | ZE: 109 mm (4.29") | ZF.2: 109 mm (4.29") |
| Diameter of focusing ring | ZE: 88 mm (3.45") | ZF.2: 88 mm (3.45") |
| Length (with lens caps) | ZE: 154 mm (6.06") | ZF.2: 152 mm (5.98") |
| Length (without lens caps) | ZE: 137 mm (5.39") | ZF.2: 135 mm (5.31") |
| Weight | ZE: 1390 g (3.06 lbs) | ZF.2: 1350 g (2.98 lbs) |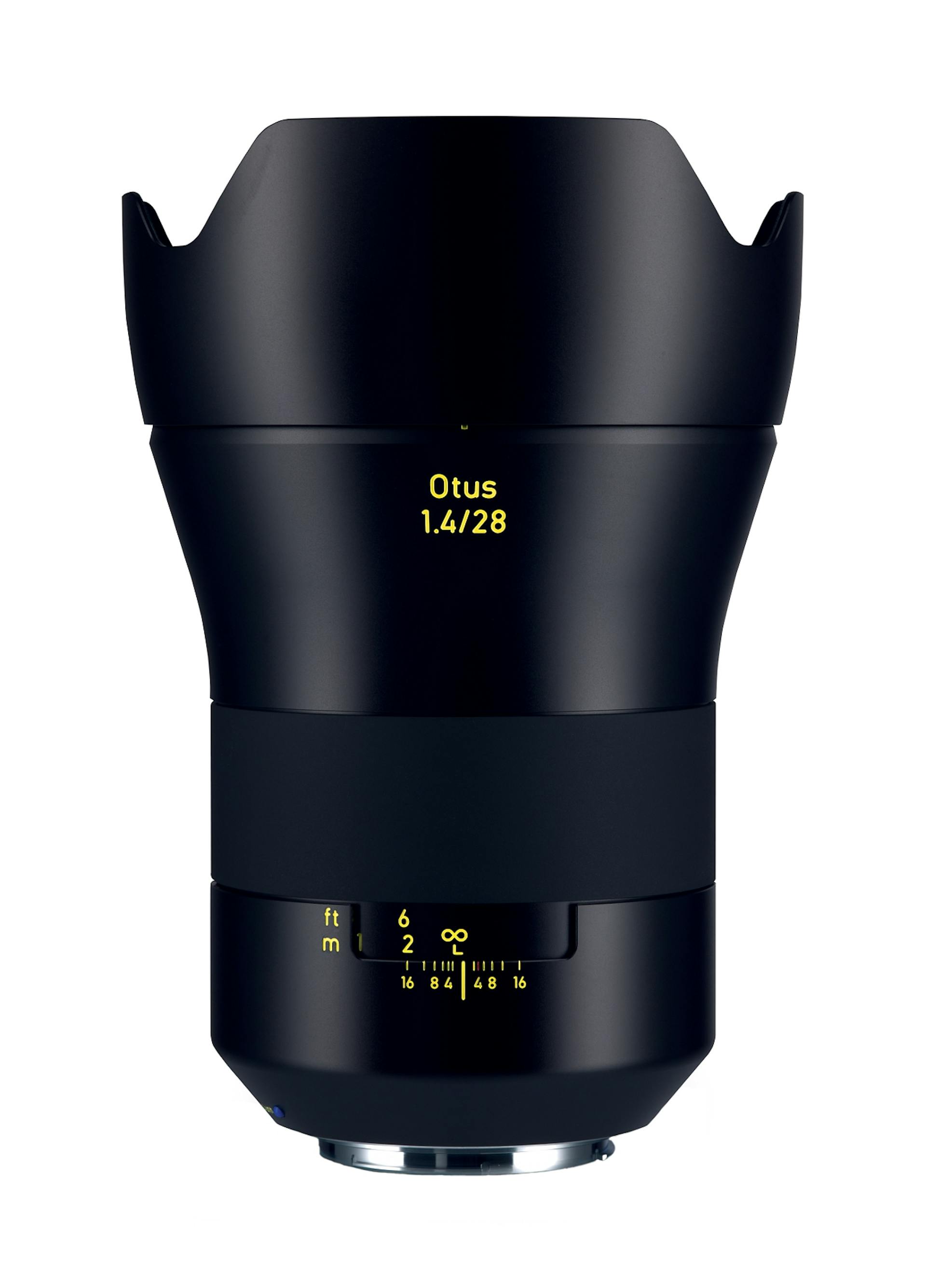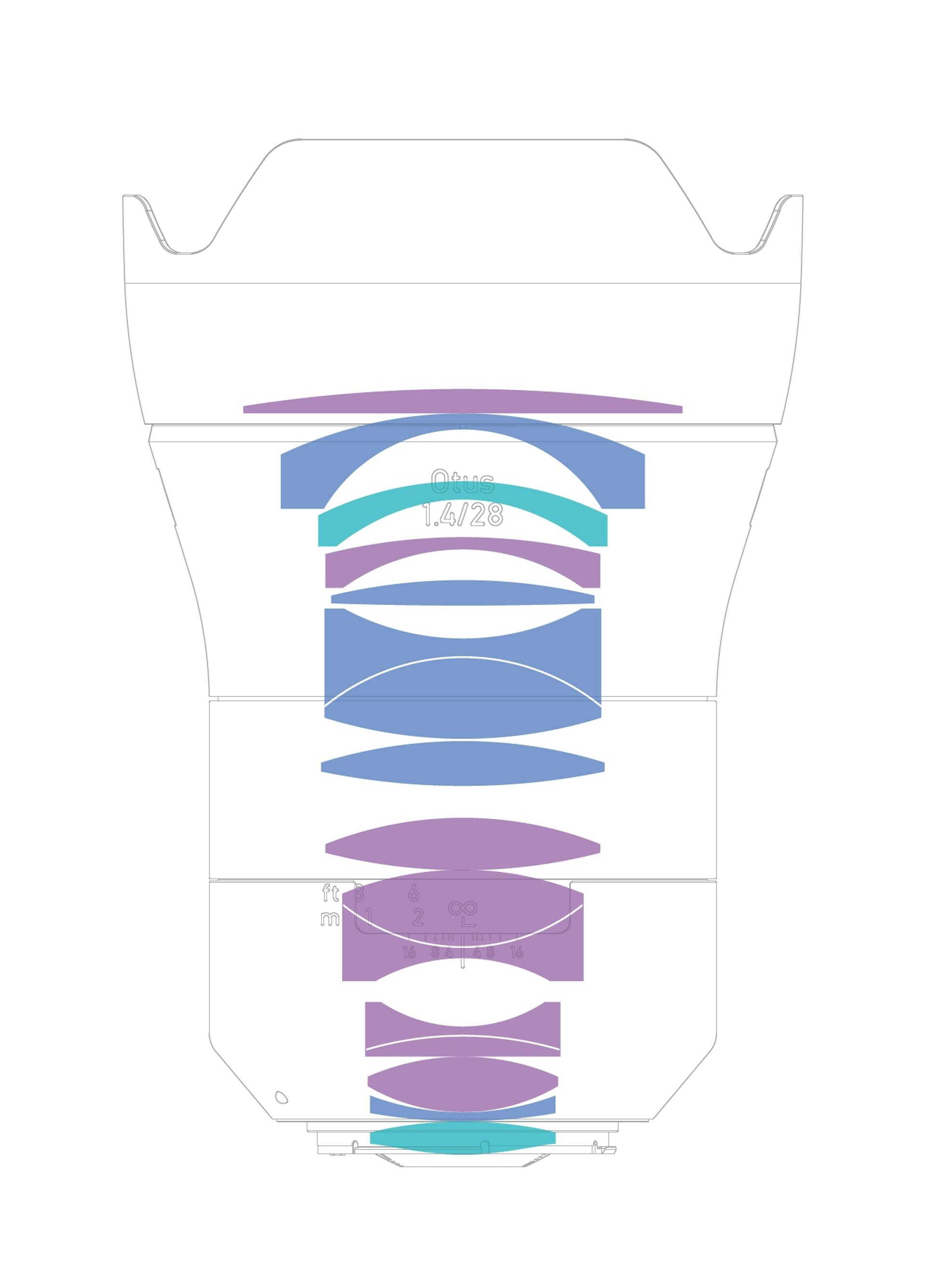 Originally developed for SLR cameras requiring a long back focal distance for short focal lengths because of the mirror box (the distance between the back lens element and the film plane must be considerably longer than the focal length), the Distagon lenses (retrofocus design) are also ideal for mirrorless system cameras thanks to their optimized ray path. Even with longer focal lengths, the high-performance Distagon optical design enables consistently good correction all the way to the corners of the image and very low field curvature.

Distagon Design

Lens with aspheric optical surface

Lens made of special glass with anomalous partial dispersion

"Floating elements" design
cameralabs.com
"The lens is one-of-a-kind as there is no other 28mm f1.4 full-frame lens on the market..."
cameralabs.com
pcmag.com
"The Otus 1.4/28 is a huge, pure manual focus lens with an all-metal build and superb optics..."
pcmag.com
the-digital-picture.com
"If I were to create a description of the ultimate 28mm manual focus lens, it would read like ..."
the-digital-picture.com
Lens Accessories
Round off the fully unique product experience.
When taking pictures, an optimal image is not the only consideration. Capturing that special experience also plays a key role. With their reliable functions, camera lenses from ZEISS ensure that photographers can fully concentrate on the image and composition, and bring their creativity to life. In order to perfect this experience, ZEISS now offers accessories tailored to the requirements of demanding photographers.
Obtain the extended warranty
Product Registration
ZEISS grants a warranty period of two years from the date of purchase for all its photographic lenses. This may be extended to three years after registering with ZEISS Online Registration. Although the ZEISS extended warranty is already available in numerous countries, claims under warranty may only be made in the country in which the product was purchased. 

Dealer Locator
Please type in your address to find a dealer near to your location: