FREE YETI Rambler Promotion
When you purchase selected ZEISS Sports Optics*
ZEISS optics is excited to offer customers a new promotion from 11th October 2023 through to 24th December 2023. During this time, customers who purchase a ZEISS optics product will receive a Free Limited Edition ZEISS branded YETI Rambler 20oz tumbler. This promotion is available on the majority of optics* including the new SFL range of binoculars as well as the entire portfolio of DTI Thermal Imaging Cameras, making it a great opportunity to purchase high-quality optics and receive a durable and stylish accessory as a free gift.
The hugely popular YETI Rambler 20oz tumbler is a durable and stylish accessory that can keep beverages hot or cold for extended periods of time and is perfect for outdoor enthusiasts. Customers can take advantage of this promotion by visiting any UK ZEISS optics dealer or UK authorised reseller in person or online during the promotional period and purchasing any ZEISS optics product included in the offer. Simply complete the form below and we will send you your free YETI Rambler 20oz tumbler.

Full terms and conditions can be found here.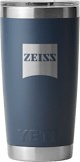 Fill in the form for your free YETI 20oz Rambler tumbler
Find a ZEISS dealer
Please type in your address to find a dealer near to your location:
Promoter: Carl Zeiss Ltd - Meditec, Microscopy & Consumer Optics. ZEISS House, Building 1030, Cambourne Business Park, Cambourne, CB23 6DW Cambridge, United Kingdom
This promotion runs from 11th October 2023 until the 24th December 2023 at 23:59. Entries after this date will not be entered. The promotion is only valid for purchases between the 11th October 2023 and the 24th December 2023 at 23:59. Promotions can be claimed from up until 29th February 2023 at 23:59.
Only one YETI Rambler 20oz tumbler can be claimed per item purchased. 
Validation: You must complete all of the required fields to validate your promotional offer
England, Wales and Scotland sales only through authorised UK dealers and UK resellers, any entries outside of these regions will not qualify for the free YETI Rambler 20oz tumbler.
Right to withdraw: Carl Zeiss Ltd reserves the right to alter, cancel or withdraw this promotion at any time without prior notice.
Right to refuse: Carl Zeiss Ltd reserves the right to refuse the redemption of this promotion.
Liability: Carl Zeiss Ltd shall not be liable for any loss or damage (whether direct or indirect) or consequential damage of any nature in contract, (including negligence) or otherwise caused by the acceptance of the terms and conditions or in connection with any of this promotion.
Your data will only be passed on to our fulfilment house in order to send out YETI Rambler 20oz tumbler. They will not store your data.
The fulfilment house is Ciconi Ltd, Airfield Industrial Estate, Warboys, Huntingdon PE28 2SH.
The data is protected as the information is only accessible through a password secured network.
Products will be delivered within 1 month of claim.
Promotion is not available on the ZEISS Terra pocket range, any monoculars and accessories.
The products available for this promotion are: SF Binoculars, SFL BInoculars, Victory RF Rangefinder Range, Victory Pocket, Victory HT, Conquest HD, Terra ED (Excluding Terra Pockets), Victory Harpia Spotting Scope, Conquest Gavia Spotting Scope, DTI 1, DTI3 Gen 1 & 2, DTI 4, and DTI 6 Thermal Imaging Camera, V4, V6 & V8 Riflescope, Victory HT Riflescope, LRP S3 and S5 Riflescopes
Data gathered will be used only for fulfilling the promotional offer. Any contact information will only be kept if the user has opted in, if not the data will be deleted within 90 days.
Full data protection statement can be viewed here